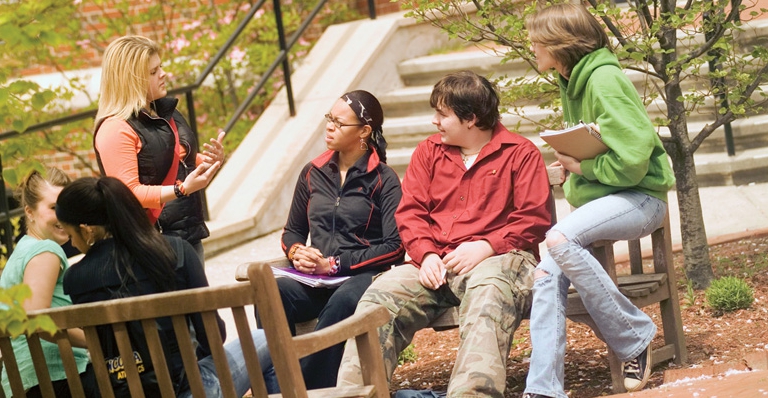 Go Commando's brand ambassadors are more than just that, they are a Brand Commando. Over 800 college campuses around the US have students using the Go Commando platform to make some money – and have a whole lot of fun. Jalena Lizabeth LeMaster is originally from Greenville, Ohio, but now she's a junior at The Ohio State University in Columbus, Ohio where she's a rockstar of a Brand Commando.
Jalena is studying Exercise Science and Dietetics with a minor in Youth Development. With coursework like that, her free time activities are perfect for her. She is very active in Greek Life at her OSU as a member of Alpha Xi Delta, and she is a full-time nanny (that youth development comes in SO handy). Although she's making the most of her college experience, she knows what her goals are after the fun is all over. She would eventually like to be a pediatric physical therapist, or a dietician and trainer of her very own gym. Both are noble and awesome goals!
Working hard in school is important to fulfilling all of these goals and aspirations, but Jalena has a great outlook on her time at OSU. As a piece of advice for incoming Freshman, Jalena says, "This is the most carefree time in life – like, when else in your life can you be so careless yet responsible? Learn early to not care if people judge you. Don't worry or care too much if people question your decisions. Because they're not you! You're not being 100% stupid, so why should you care what others think? Try everything twice. Because once we get out of college, all we're going to do is work the rest of our lives."
Figuring out how to live a carefree college life can seem daunting, but Jalena admits that's one of the reasons why she loves going to OSU. She explains, "I love how big it is! Like, it's so big, but at the same it feels ridiculously small. There are so many opportunities to try something new and expand my horizons. (This is going back to the 'don't care what people think and try everything twice.')"
Making the most of her college experience is definitely a high priority for Jalena, and for good reason! She was born on a farm, and she was the fifth out of six kids born in her family. They are definitely proud of her because she is the first to head off to college. That's awesome!
An interesting story about Jalena and of her brothers is that she was born on 9/5/95 weighing 9 pounds and 5 ounces. Then, her younger brother was born on 9/9/99 and weighed 9 pounds and 9 ounces. If you didn't do the calculation yet, they were born 4 years and 4 days apart. It's a wonder that she's not studying to be a mathematician with crazy numbers like that in her life.
Now that she's going to OSU, studying is important to Jalena. She likes to go to Starbucks and listen to country or Spotify's Afternoon Acoustic playlist. This all seems like the perfect combination to good grades and a good time. When she's not studying at Starbucks, participating in Greek Life, or nannying, Jalena is a big fan of Bibibop, Philco, or Barcelona in Columbus.
As any good college girl would have, Jalena has her favorite brands that make her smile. She can't live without Vineyard Vines, Starbucks, or Lululemon. Pretty tough choices, we'd say! Do you love the same brands as Jalena? Where are your favorite places to study on your campus?