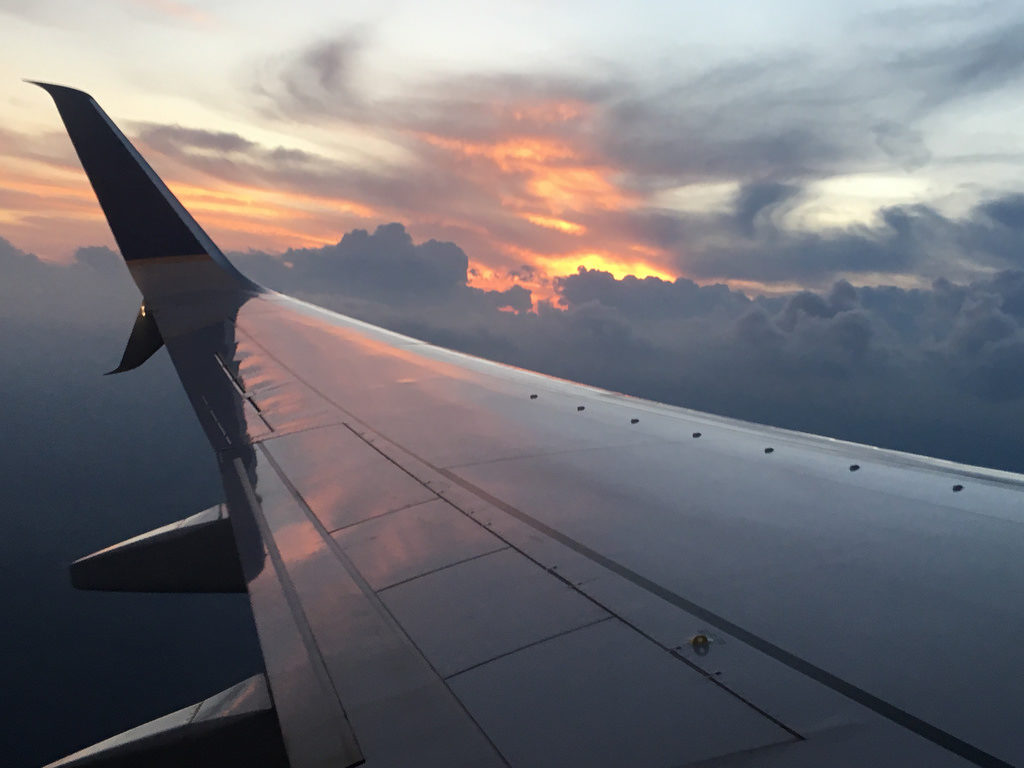 Don't you just love the sense of adventure that comes with pinning destinations on a map to all the places you want to travel? Or even more excitement that comes with booking that trip? And getting on the plane, well that's just the best thing there is. What if I said you could fly for free.
I don't have to tell you college is expensive. If you're like me, I pay for most things myself. A lot of self supporting students are living paycheck to paycheck trying to make ends meet. At some point, you just start saying, "I need a damn Vacation." That has been my story for a while now, but I have learned to make my money work and manipulate  the system. I'm showing you how to get free flight throughout the U.S and even some International.
The Credit Score
The easiest and most time efficient way for you to get honest credit assessments (for free) is Credit Karma. Their website allows you to check your FICO and TransUnion scores. View your credit reports as many times as you wish and it doesn't hurt your credit. It pulls your credit information via a soft inquiry as opposed to a hard inquiry, which would hurt your score. If you're not interested in keeping an account with Credit Karma, you can obtain a free credit report once a year, free of charge and free of credit damage. Go to Annual Credit Report and follow the steps. (It is the real deal.)
Knowing what a score means is an entire other article, but for now if your score is above 650 skip to.
(Hint: if you want to know more about what your score means head over to Credit Sesame.)
Getting a "Gateway Card"
Getting your credit score the first time is a little nerve racking, especially if  all you have are student loans you haven't paid on yet. A "gateway credit card" could be your solution. Start by heading to a local credit union and apply for a non-reward bearing credit card through them. Don't risk getting an airline card right off the bat, you'll likely end up hurting your credit with a hard inquiry and get declined the credit line.
Anytime you apply for a credit card or loan, you will get a hard inquiry on your credit report which typically nocks your score about 3 to 5 points. They do go away, but on average it takes about 1 to 3 years of good credit standing for that to occur. This means you need to be careful with the cards you apply for!
Looking for other ways to build credit? Start paying monthly minimums on your student loans. Most start around $25 a month. Doing this in conjunction with getting your gateway card will really show that you care about your credit.
Learning To Use The Card
Your gateway card usually has a low limit with a steep interest rate. With a card that has $1,000 to $2,500 credit limit, having 14.9% to 24.7% APR (annual percentage rate) is normal. Having this card can be tempting to use. Psychology shows us that when spending is easier and more accessible, people buy more, and for creditors that equates to profit. It's ideal to have about 30% usage on your credit cards for the best credit growth, but that doesn't mean you need to use the card all the time. Use your credit card for everything you previously purchased with debit. It is exactly the same only the money isn't immediately drawn from your account. Instead you wait until you get your credit card statement, then, pay it off in full to avoid any possible interest charges. I actually prefer this because if you buy everything on credit then pay it off at the end of the month, you know exactly how much you spent.
At this point you are doing great! Keep up the activity on your card for about 4 months minimum between card applications. Use your college expenses to your advantage and when you need to buy books, or pay tuition, or rent, use your credit to your advantage. Applying for an airline card before a new semester will help you reach spending threshold where you have to spend a certain amount within first 3 months of account opening to get some bonus points.
Getting On The Plane For Free
The mail is in and ~ wa-laa ~ your miles card is here! In about 3 months you'll be able to fly for free! How will you do it? Getting all the bonus points. 
Here are the general trends in bonus mile requirements:
Spend $1,000 in the first 3 months of opening and earn 5,000 to 30,000 bonus miles (airline & card level dependent)
Spend $2,000 in the first 3 months of opening and earn 40,000 to 50,000 bonus miles (airline & card level/current offer dependent)
Spend $2,000 in the first 3 months of opening and earn 70,000 bonus miles (typically top tier airline card like Delta Airlines Platinum card (Annual fee usually higher ex. $295, but you get extra perks)
Each card is different and many airlines have multiple credit cards "levels" to choose from. I currently have cards with JetBlue, Southwest Airlines, and United Airlines. Choose the card that had the perks you want, allows you travel where you want to travel, and that you can afford, both long term (annual fees) and short term (bonus mile spending).
I started my journey with Southwest and about a month later opened a card with JetBlue. I choose Southwest because they have low annual fee and had an offer for 50,000 bonus points if I spent $2,000 in the first 3 months. It was easily doable for me because I was going into a new semester and had plenty of expenses awaiting me. I also love traveling out west and Southwest was the leader in western travel cost. With the bonus points I earned, alone, I paid for  2 and a half trips out west.
If you decide that Southwest is the airline card for you, use my referral link (you will get extra bonus points for signing up, and I'll get points for helping you out.) While you're there, follow me on twitter for for updates on airline deals!
Are you going to try and fly free now?