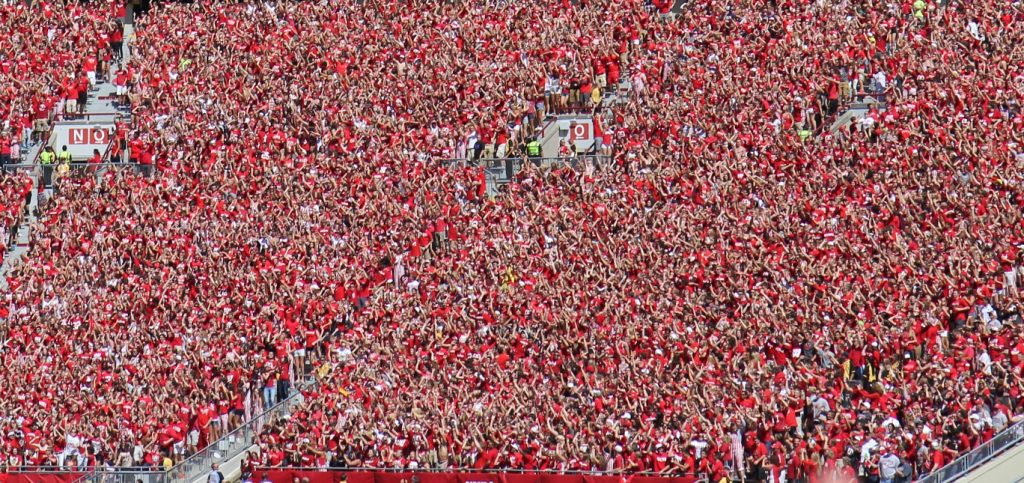 Whether you're a well-known, large brand or an up and coming company, one of the largest and most valuable markets available to you is that on the college campus. Big 10 Schools and Colleges across the country are a large source of revenue for much more than you think. It's not just the young adults there, but the passionate fans and alumni that support these schools year after year. With football season in full force, now is the perfect time to sharpen your college marketing methods. One interesting way to do this is to take full advantage of some of the biggest college traditions.
There's plenty of tradition in Big 10 schools and colleges. Whether you believe it or not, these are people that are over-the-top about these traditions and that's a good thing! Here are some of the biggest traditions you'll see play out across colleges when it comes to sports.
Ohio State's Dotting the I
You've heard about it – the single person that gets to "dot the letter I" in the script of the word "Ohio." The marching band spells out the letters of the word. Then, the celebration comes to an end when one lucky player gets to dot the "I". This person puts on a show as he or she assumes this treasured position. Are you dotting the "I" and putting on a show for your players? Perhaps you'll want to pay homage to a tradition like this in your marketing – even for Ohio State's audience – through sponsorships or ads reflecting that tradition.
The Jump Around at Wisconsin's Camp Randall Stadium
If you haven't been to Wisconsin's Camp Randall Stadium for a game, you'll want to make sure you focus your attention on the Jump Around that happens between the third and fourth quarter of the game. Some people come just for this! Everyone is jumping – fans, players, and even the opposing team! The song by House of Pain comes on and the entire section gets moving. Some say the stadium even shakes as a result. Could you create a bit of college marketing around this "jump?" Paying homage to a tradition like this, especially one that spans both sides of the field is a fantastic way to brand your company.
The Bike Race Called Little 500
At the Indiana University Bloomington, there's an annual Little 500 bike race. One of the ways brands help to support the event is by creating Snapchat filters to promote the event. And, sponsors are on every corner of the campus getting people interests. Many local retailers and restaurants sponsor brunch meals that week as well as a way to connect with students and patrons.
University of Minnesota's Festival for Homecoming
One of the ways brands help Minnesota fans celebrate homecoming is with a homecoming festival. It takes place outside the student union building and plenty of businesses have tables handing out flyers and free items. Food companies often give out snacks, too. Of course, everything is gopher themed to help celebrate the football season and to bring awareness to brands for students.
The Rivalry
Across the country one of the most prominent sights you'll see is the rivalry. There are all sorts of teams that simply look forward to their entire season just to go after that one other rival school. It's a big deal and it means a great deal to those taking the football field to fight for their team's honor. You may have heard of that rivalry between Wisconsin and Minnesota, long thought to be one of the oldest in college football. Or, perhaps it's the Michigan and Ohio State rivalry. As a marketer, you may be able to take full advantage of that gumption and really take things to the next level. College campus marketing could fully support the concept of rivalries. You may find yourself promoting a good hearted contest or event in this way.
Turning Traditions Into Branding and Marketing
How can a brand capitalize on these types of traditions to reach college students? First, as a brand that's focused on college marketing, you simply must take the time to get to know your team and their traditions. The simple ability to know what you can expect during a game is a big deal. When you know their traditions, you create a bond between you and the school.
In addition, you'll want to find ways to link your marketing campaign directly to those traditions. Sponsoring ads and other content that really does pay respect to these traditions can make a big difference.
Big 10 schools and colleges take traditions seriously. To reach this audience, you need to create effective college and campus marketing that pays respect to and embraces those traditions. As you choose a school to market to this season, consider their individual traditions that make that school unique and then embrace those in your campaign to see results.
Next Steps
Image courtesy of Wikipedia.