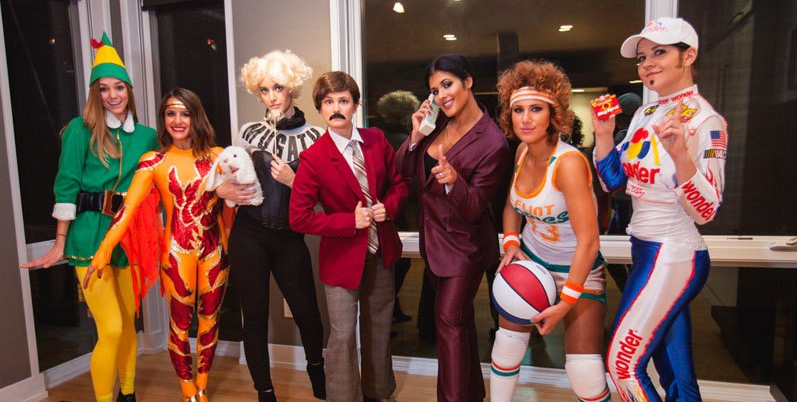 Halloween differently this year.
When everyone else is organizing a pub crawl—boring—you organize a costume swap. That's the beauty of Halloween; it's kind to the "freaks" of the idea bin. Just look at the advertising that brands do off campus around this time of year. Do you think Snickers could have gotten away with their infamous TV spots, think "Headless Horseman" and "Grocery Store Lady" at any other time of the year? No, way. So, even if you're pushing pens remember that nearly any product can be mapped to Halloween and when in doubt, keep it weird.
To give you a push in the right direction, we've rounded up some of the soundest ideas for turning your marketing campaigns into Halloween successes. We've looked at what has worked for brands in the past, because there must be some science applied, and re-envisioned it for campus life.
1. Map Your Product to Halloween
Running Halloween-related campus marketing campaigns does not require selling costumes, party supplies or Jack-o-Lanterns. Just about any organization or brand can manage mapping their brand to Halloween marketing. A few years back Lands End did in an email campaign which, in a section titled "Spooky colors", showed all the ways their products could be used in costumes. Brilliant! If you can connect your college marketing campaign to the holiday, you're probably on to something.
2. Involve the local underground scenes
Spend the afternoon with some of the city's most creative and daring artists and authors while supporting underground arts and culture scenes. These groups are extra receptive to Halloween events, usually because they throw hold their own. Sponsor and host workshops, a vendors marketplace, or a fan expo.
3. Leverage a local character for a 5k run
New Jersey has the Jersey Devil, the Pacific Northwest has Bigfoot, and West Virginia has the Mothman. Look for the local boogeyman and add him into your campus marketing plan. One interesting way to do that is to create an all-terrain obstacle race, in the style of Tough Mudder and Spartan Race. The theme and obstacles for the race can sprout from the boogeyman character, like a mix between The University of Southern Indiana's Zombie Run and the Wicked Halloween Run in Plymouth.
4. Halloween costume swap
Give students a way to recycle last year's costume, score something new one the cheap, and dip a toe into the Sharing Economy they've been learning about in Econ class. The idea is simple and can be hosted by any brand if you can't directly map your product to Halloween. Give special offers to swappers all of the swappers who participate, prizes for those who bring the most items to swap, and always donate the leftovers.
5. Encourage user-generated content
Ask your target students what they are doing for Halloween. Did you know that publishing user-generated Halloween content to social channels leads to 300% increases in website traffic? Get them talking on your channel about their brilliant costume ideas or party theme. Make a call to action for sending in pics of their Jack-O-Lantern or dressed up pet from back home.
6. Put a Halloween spin on an existing deal
Did you hear about that one time the Heart & Stroke Association got 5,000 people to learn CPRat once because they associated the life-saving practice with an ad campaign, called "The Undeading". By leveraging the existing buzz that surrounds the popular television show The Walking Dead, the organization was able to re-teach the revised version of CPR—just chest compressions, no mouth-to-mouth. You may not have the time to create a high production ad or multi-channel social media narrative, but could you add an undead twist to an existing idea with similarly impressive results.
7. Turn October into "Halloween month" with a social media-wide scavenger hunt
Do what the big brands do and use the entire month of October to roll out deals and content. Using the entire month gives you a lot of flexibility to develop different types of promotions across all your channels. Target early preppers and last minute shoppers by sending out your e-commerce deals in the first half of the month, brick and mortar ones in the second half of the month. Make the entire month into a Halloween scavenger hunt where students must submit their successful finds through the social media channels—they must be following all channels to catch all of the clues and directives.
8. Hand Out Halloween Marketing Treats
Unite students with their love for anything free. Free things are even better if they're useful and/or tasty, so take your pick. Whether you're selling software, computer security, or insurance, you can pay homage to the holiday through freebies, free add-ons and Halloween-specific gifts. Novelty Halloween products for campus life can be found fairly easily by browsing some wholesale specialty retailers. MarketingSherpa's Adam Sutton believes that doing this will boost interest in your overall brand, even if your product isn't remotely related to Halloween.
Trick or treat!
Halloween is coming up very quick, which gives the illusion of not much time in which to gather your tools and get to work (if you haven't already).
Whether or not your brand will directly benefit from Halloween's $7 billion in retail sales, you can certainly attempt to leverage old tales and new platforms in fun ways right now. With a little experimentation and luck, you could be watching your metrics soar at a key time of year.
How are you planning to integrate Halloween marketing concepts into your campus marketing strategy?
Photo courtesy of www.newhalloweencostumed.com.
Take the Next Step